Training and Team Development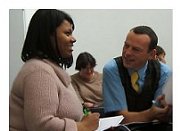 "An excellent course. I feel I can really adopt what I have learned and feel confident to use it in practice."
Training to suit you
We have ten years experience in providing high quality training for leaders, managers, and front line staff within a wide range of public, private and third sector organisations.
All our training is custom designed to your exact specifications and delivered in times and places to fit in with your staff needs and requirements.
Although we are always willing to undertake new training commissions some of our most popular themes are:
Assertiveness
Coaching Skills for managers
Effective Communication
Developing Resilience
Employee Engagement
Mental Health Awareness
Managing Stress
Managing Time and Pressure
Managing Meetings
Planning and Managing Change
Inspirational Leadership
Managing with the Power of NLP
Training that Works
We know that people learn best when they are fully engaged in the process. For this reasons all our courses are run in an interactive manner and we use a variety of training methods to suit all learning styles.
We encourage all course participants to make links between course contents, day-to-day practice and their own broader development via personal portfolios and other relevant areas of learning.
We carefully monitor course evaluations to ensure that we are meeting our quality standards and customer requirements.
Experienced Trainers
Our training consultants are carefully selected for their specialist knowledge, ability to stimulate and engage learning groups, and experience in the relevant subject areas. Wherever possible we involve trainers who are engaged in active practice and management in order to ensure the topicality of their training.
Team Development
We have considerable experience in design and facilitation of team events and have worked with operational and management teams at all levels of seniority. Contact us for further details of this service which includes
Induction workshops for new teams
Workshops promoting multi-team working and communication
Team Coaching
Management strategy and planning events
Problem solving groups and team events