Career Coaching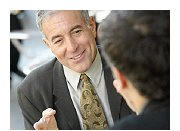 "As a result of coaching with Martin I've made a lot of new contacts in fields that I've chosen, have set up goals, and am more comfortable with looking at the future and trying out different career paths....these results are the best summation of my coaching that I can think of"
Are you:
frustrated in your present job? Feel its time for a change?
at a crossroads in your career and need to follow new avenues?
experiencing stress and needing to re-balance your personal and work life
facing redundancy, perhaps lost your confidence, and need to use this as an opportunity to re-focus.
Just think how it would be to awake each morning looking forward to your day!!
Would you like a skilled coach to help you identify what would really fulfil you and then work with you every step of the way towards achieving your goals?
Whatever your situation, we can help you to take stock of your present situation and move from uncertainty into confidently choosing a career that will work best for you in the future and fit with your life pattern.


Our career coaching works in three stages:
Phase 1. What makes you tick? An exploration of your individual needs interests and values and how these can best be reflected in your work.
Phase 2. What do you need to do? During this phase we will help you build your confidence (if required), overcome barriers (real and imagined) and explore your career options based on our work in Phase 1 (above) We will also look at any further training needs required.
Phase 3. Making it happen. This is the business end of our work during which we will narrow the career options, focus on priorities, build your CV, identify networking opportunities and plan your strategy to enter jobs market (formal and informal).
The next step
Contact our office to discuss your needs and to book an initial free session.