Corporate Coaching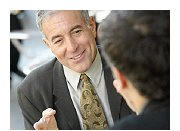 "Coaching with Maxima has been invaluable in gaining fresh insights into my management style and how to adapt this to meet each situation in my work context….altogether an exciting and positive journey of self-discovery and gain in new confidence"
- Human Resources and Training Manager



Why Corporate Coaching?
The benefits of using an external coach are recognised by large organisations and small/medium businesses who wish to invest in their key managers and leaders and by individuals keen to achieve their full potential. Coaching is beneficial for new appointees through to experienced senior executives.
Coaching is a highly skilled process that focuses on those critical variables that will make the biggest difference to workplace performance. Studies consistently point to the superiority of coaching in achieving significant, measurable results that last.
Coaching also delivers additional benefits for organisations. These include improved productivity; greater workplace morale; increased motivation; better adaptation to change; general improvements in working relationships and increased retention of staff.
Who can benefit?
Managers and executives at any level who require coaching to:
move rapidly beyond their existing competencies and skill sets.
develop powerful leadership abilities
acquire the softer "people" skills
achieve higher level strategic thinking
learn how to manage processes of change
focus on specific projects, or challenges arising within teams.
enhance and plan their career moves and development
Our approach has proved particularly effective where managers carry complex or diverse responsibilities, require fast track development, or for newly promoted specialist managers needing to acquire generalist people management abilities.
Why use Maxima coaching?
Our primary aim is to help individuals excel in their work, their personal ambitions and their significant career relationships.
We work in a highly positive and engaging way to ensure that clients:
rapidly extend existing skill sets and competencies
generate insights that prove invaluable into the future
have opportunities to explore fresh ideas
overcome limiting beliefs
rehearse new behaviours and approaches in a real-world setting.
discover/rediscover the enjoyment of professional development
We incorporate leading management and personal development materials into coaching. This includes approaches from neuro-linguistic programming (NLP) cognitive behavioural therapy (CBT) both of which provide powerful ways for overcoming blocks and limitations, achieving optimum performance and integrating values, knowledge and behaviours.
We are licensed to administer Extended DISC, one of the world's most effective tools for understanding and enhancing personal and team performance. This provides baseline measurements for clients and a basis for ongoing coaching.
We are members of the Association for Coaching, the UK's leading body for accrediting professional coaches.